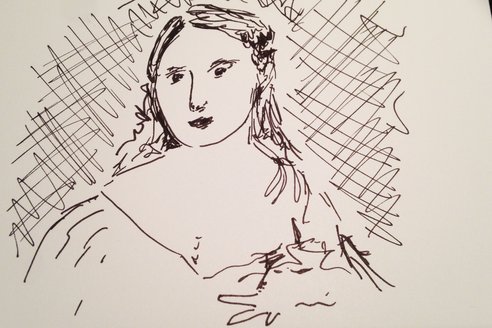 Is the fact that he was an italian Renaissance painter everything you know about Titian? Well, then you're in good company. While we just can't bring you up to speed here, as always, we'd like to refer you elsewhere to get a more complete picture.
Here at vignettiste, we are all about the small stories, the interesting details that might draw you in. Giving you another angle than that of a wiki entry might help you find an uncomplicated, unexpected connection to an eclectic collection of art pieces.
So, today, it's Titian. Tiziano Vecelli(o) (1488/1490 – 1576) lived a long life for a period where reaching you thirties couldn't be taken for granted. He was versatile and incredibly influential. The painting of "Flora" is dated to around 1515, it is on display at the Uffizi gallery in Florence, Italy. She is named after the goddess of flowers and spring, and this portrait is the first of a string of portraits depicting ideal female beauty… in quite different settings. The same woman is shown as a Venetian courtesan, an in another one, as a wife in a correct Venetian marriage. Ideal female beauty … make of that what you will!
Not a lot is known about Titian's life. Flora might be Titian's mistress Cecilia, whom he married after many years to legitimize their son Pomponio, and/or to officially be with her when she became severely ill.