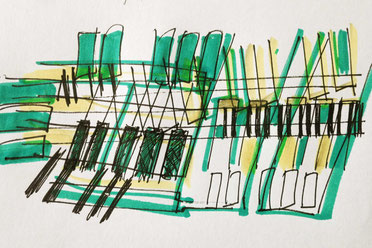 Sometimes I hear something that feels like a solution. Not on a metaphysical, but on a musical level - when I've been working on a piece for a while, looking for something that wasn't quite there yet. This piece did exactly that for me last week. I couldn't believe my ears. You can analyze it all you want, but it has a harmonic center and a foundation, just beautifully blurred by the weirdest voicings. 
Einojuhani Rautavaara (*1929) is a Finnish composer, who studied at Juilliard with Aaron Copland among others. His musical output is very impressive - he wrote eight symphonies and 14 concertos, just to name a few, and biographical operas like "Vincent", based on van Gogh's life. He worked with serial elements in his early career, but abandoned them pretty early, trying to find a synthesis between tonal harmony, which he loved writing and hearing,  and twelve-tone-technique. 
He felt that music was standing still in the fifties, being dictated by certain people, and composers from all over the world all writing the same pieces over and over.
"I had seen that it was not for me; it was no fun anymore.  It was stuck; it was stagnation", he says in this great interview from 1996.  "Then I went my own ways, and I hope I will continue to do that."