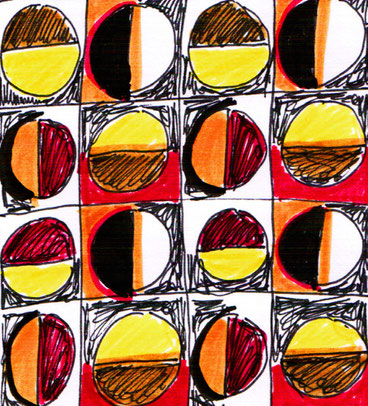 Until yesterday, I did not know about Gio Ponti. Someone mentioned him, I googled his works, and now I know that what he and his contemporaries did in the 1950s and 60s in terms of architecture, furniture and interior design is exactly what I like (well, me and every other hipster). I love vibrant colors, black and white, sleek design, and voilà, there it is. 
Gio Ponti (1891 - 1979) was an Italian architect who loved to go into detail. He not only created buildings, but their furnishings as well, like sanitaries, and he developed lamps and chairs and silverware, some of which are still in production today. There's also a fabric line, originally created in the 1950s, that fits today's retro trend in everything perfectly. Just check the store on his site, you'll discover right away how swedish furniture discounters are copying his designs.
Some say that he spread himself too thinly over his career that spanned over five decades, that he was a "jack of all trades and a master of some". This might be why his works were overlooked for a long time, except for the Pirelli Tower in Milan. He did so many things that recognition is just know starting to grow.