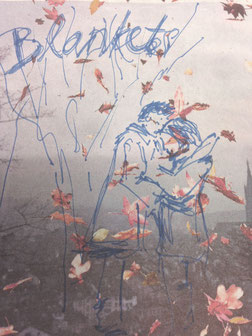 Zero point zero zero is what my knowledge of graphic novels amounts to. I decided to change that a little bit today, and found "Blankets", an autobiographical story of a christian boy and christian girl who turn to each other, which will turn their lives around and culminate in the boy deciding that he's not a christian anymore. It was author Craig Thompsons (*1975) way of telling his parents, some twenty years later, which caused a fallout with them, while the book won him a lot of recognition, awards and prizes. He had grown up in rural Wisconsin, ten minutes off the town centre by car, in a strict christian household. Comics - the Sunday funnies - were the only uncensored and allowed art form… 
Thompson organizes his day around a strict discipline, like a normal 9 to 5 job, because it's about actually doing the work, "like mowing the lawn". Read this interview to find out more. 
I also look forward to read his 2011 work "habibi" that centers around the islam, as "Blankets" does with christianity. 
And as for me getting to know the world of graphic novels a tiny little bit: let's say I'm at about zero point zero two. Which I'm fine with for now - life is long. Take that, Socrates!