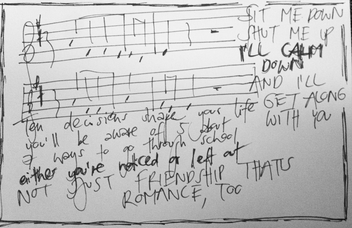 I like the Strokes. Which everyone did in the early aughts, they were ubiquitous at college parties or apartment hangouts. The band, formed in 1998 in New York City brought Garage Rock back (and took it with them when their success started to fade somewhat), and added to the soundtrack of a generation that was coming of age then. It was a fitting soundtrack, not perfectly played, simple, straight forward, well produced, aware of the quality of seemingly lo-fi sound. 
One of my favorite songs is "I'll Try Anything Once", it features just front singer Julian Casablancas and a Fender Rhodes. The latter isn't played that well, nor is it sung with enthusiasm, but instead with some kind of ennui (or boredom),  but it's sentimental, and it works. Sofia Coppola used it for "Somewhere" (see the Trailer above).
Just give them a listen, again, or for the first time. The albums "Is This It" and "Room On Fire" are highly recommended. I wonder if you like them if you didn't know them when you were young, or if you'll like them as much as we did if you  are young now and looking for something, a direction, or a playlist for a long evening spent at home with your room mates where the big questions come up.