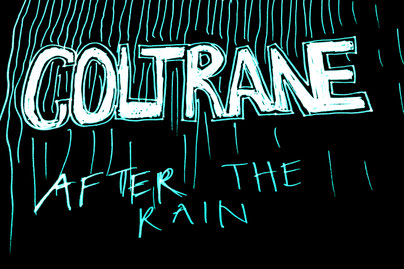 After a string of sunny-blue hot summer days, what a strange surprise to wake up in October today. As if someone had decided that June's shining hour had gone on long enough. Cold and grey weather, but beautiful, because it was an exception. The rain stopped in the early evening. 
On John Coltrane's (1926 – 1967) eclectic album "Impressions" from 1963 you will find "After The Rain". Played by his quartet with McCoy Tyner on piano, Jimmy Garrison on bass, and Roy Haynes instead of Elvin Jones on drums, the piece has a simple, impressionistic quality. It is so gentle that it features on the "Coltrane for Lovers"-sampler (because I'm guessing gentle music is required for such a label, right? Or might there also be one called Free Jazz For Lovers? Ahem.)
Unfortunately, the internet doesn't know more about the piece than it's title. So, if we can't talk about thought process or structure, we are left with nothing but raw emotion, at least for today - let's enjoy it. After the rain, June might come back with a vengeance. But in bathing suits with drinks in hand we might fondly remember this untimely fall preview day.