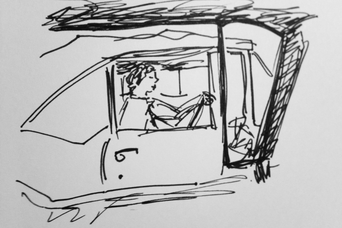 The photographer of austrian descent (1923-2002) and Henri Cartier-Bresson, both with the Magnum Photo Agency, were hired to portray the filming of "The Misfits" in 1960, with a script by Arthur Miller, featuring Marilyn Monroe.
They decided to travel to Reno, where the film was shooting, by car. Since they were both europeans, unused to such a vast country, they mostly enjoyed the experience - just mostly, because she didn't eat meat and he was used to more delicate cooking, which made the omnipresent burgers not too appealing. They ate apples and carrots and arrived on the set half-starved. Morath met Arthur Miller, and married him two years later. They worked on many projects together, traveling around the world, with him writing the introductions to her pictures. 
Inge Morath was one of very few women working for Magnum. She was an empathetic viewer of the world, interested in people and able to draw them in, as Arthur Miller said about her. I encourage you to read about her life on the website of her foundation, she was courageous and adventurous as well. And although she resisted the label of "female photographer", instead declaring herself to be a photo journalist, her legacy and her foundation foster careers of up-and-coming woman photographers today.