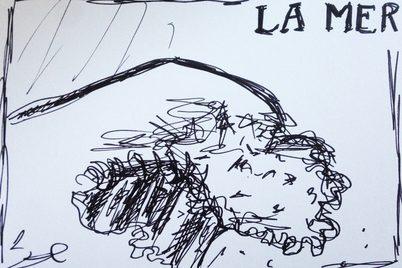 Impressionism - a widely disputed label, did you know that? Especially where Claude Debussy (1862-1918) is concerned. He hated the term, and called critics who used it "imbeciles".
La mer is one of Debussy's best known orchestral works, it consists of three musical sketches. To use a programmatic title like that, and structuring a piece of music around a nature subject, was very unusual for that time.
You, the film music buff, or you, the fan of Steve Reich's or Philip Glass' minimalism, or especially you, rooted firmly in the jazz tradition and admirer of Duke Ellington - all of you will enjoy this piece immensely. Debussy and the musical language he introduced were so influential that he inspired important composers of any genre in the 20th century. 
"la mer" was finished in coastal city Eastbourne (GB) in 1905, arranged for orchestra, but Debussy himself adapted it for two pianos in the same year. You can find the score here. And if you are unsure which version to listen to, this article is a buyer's guide.
Two more interesting details: Debussy chose the cover art for the score himself, a wood block print by Japanese artist Hokusai (who's work is also amazing, another story for another time). And secondly, Debussy considered to become a sailor himself at one point, and referred to the sea as his old friend. "It is always endless and beautiful. It is really the thing in nature which best puts you in your place."